Baked Egg Avocado
         If anyone has an oven, would you like to try baked egg avocado for a meal? The interesting thing is that the eggs are hammered into the center of the avocado. Followed by cheese, salt and pepper, and then baked until the eggs are cook.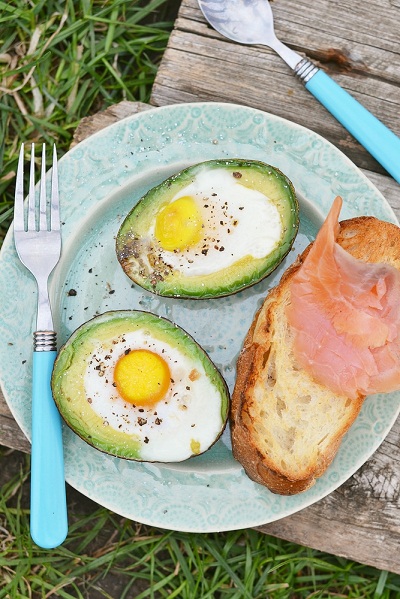 Ingredients for baked egg avocado
1/2 avocado
2 small eggs
2 tablespoons shredded cheese
a pinch of salt
coarsely ground black pepper for topping
1 strip of bacon, cut into small pieces
1 slice of crispy toast
How to make baked egg avocado
Preheat oven to 350 degrees Fahrenheit.
Use a spoon to gently poke a hole in the center of the avocado prepared for the eggs.
Put the parmesan cheese into the prepared avocado compartment. Crack the eggs and put them in. sprinkle with salt and a little black pepper
Place the avocado in a tiled cup that fits together. (Prevent the avocado from slipping while baking.) Bake for 15 minutes or until the eggs are cook. Remove from the oven. Sprinkle with crispy bacon. Served with crispy toast.
Calories per Ingredient.
Here are the foods from our food nutrition database. That were used for the nutrition calculations of this recipe.
Calories per serving of baked avocado eggs
144 calories of Avocados, California (Haas), (0.50 fruit without skin and seeds)
72 calories of Egg, fresh, whole, raw, (1 large)
6 calories of Parmesan Cheese, grated, (0.25 tbsp)